Bridal shows, I think you will find, are one of the best things since sliced bread when it comes to your wedding planning.
Where else could you see all your local vendors, photographers, caterers, reception sites, bakers, etc. all under one roof and just clambering to get your loving attention?
You know what that means, don't you? It's time to get your bargaining face on and see what kind of deals you can get!
If you don't exactly know what to expect at a bridal show (or wedding show), you are in for an overwhelming treat.
They are usually held in rather large halls, convention centers and other such places that have the ability to hold a terrific representation of all your local vendors, photographers, etc.
Think of it as a home show or garden show but just totally dedicated to anything associated with the wedding industry.
As much as it can be entertaining, there are actually some really terrific reasons for attending Bridal Shows.
Top Ten Reasons for Attending Bridal Shows:
Information Gathering: Here you will be standing in the midst of the best selection of local vendors. Many of them will have information packages containing what they do, samples of their work and, of course, price lists. In one day, you can actually have enough conversations about wedding planning that you might just start a new occupation: wedding planner! While you are at the show, don't just talk with the vendors, think of how many other brides-to-be will be there as well. Don't be shy, just start talking and you'll be making friends in no time.
Interact with Wedding Professionals: As mentioned above, don't just pick up material from the tables and booths! Actually talk with the people manning those tables and booths. If you talk to a florist or photographer, see if they would be someone you would like to work with and if you like their work. Check for references, if possible to follow up with later on.
Comparison Shopping: Don't be afraid to talk money at the show and see how much everybody is charging for their services. But make sure that you are comparing services that are equal in what you are getting. You might just be able to wheel and deal and get a better price. Vendors love to make sure their calendars are booked throughout the wedding season!
Immediate bookings: Be sure to bring your calendar (and your checkbook or credit card!) Vendors always bring theirs to the shows and will book you in on the spot.
Prizes and Freebies: Get ready to fill in ballots! Most tables and booths set up will have some sort of draw or they might even just giveaway little items to help you remember them. Sweet!
Samples: Caterers could bring samples from the menu to help tempt your taste buds. I have even seen limo companies bring their cars right into the hall to promote their business. This is how we found the car that we used for our wedding. It was a right-side drive Bentley used by the Queen herself in England. How neat was that…it was stunning and a real head-turner!
Fashion Shows: Here is your chance to view all of the latest bridal fashions for the season and also to get some ideas for your wedding party.
New Ideas: Since many of the vendors bring samples for you to view or taste, and also past samples of their work, you are bound to get new ideas you can use for your own wedding. And, like I mentioned before, while at the show, talk to other couples attending and see if you can get some ideas from them.
Show Specials: Vendors are competing with each other at the show and so, a lot of times, they offer show specials. Go to the show knowing how much you want to spend and keep your budget in mind. You could very well come away with some good deals, but don't forget to shop around at the show and don't jump at the very first offer you get.
Takes Stress out of your Planning: Believe me, when you can get so much of your wedding planning done in one day in one place, you will feel on top of the world and in control. That feeling will make the overwhelming experience of planning your wedding not as overwhelming. Also, who knows, you might just make friends with another couple going through the same things you are and you can start a support group!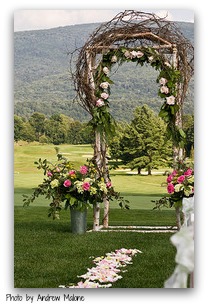 Any way you look at it, Wedding Shows can really save you a lot of time, effort and stress in your wedding planning.
To get the most of your Bridal Show experience, be sure to follow My Top 10 Tips for Attending a Show.
To find Wedding Shows happening in your area, go to Show Locations.
Planning a Bridal Shower? Then you've got to check out Bridal Shower Favor Ideas.