The typical wedding favors used to consist of five sugared almonds wrapped in tulle or placed in small boxes.
They represented health, long life, happiness, wealth and fertility and were given as a token of thanks to wedding guests for taking part in the celebrations.
Nowadays, though, favor options are literally endless and a very fun way to express your creativity and personality.
Guests usually find favors waiting for them at each place setting when they take their seats, but they might also be piled in baskets by the door to take when they leave or used as take-away centerpieces.
Wedding favors could range in price from free (if you are feeling crafty and can make some yourself) to $15.00 or $20.00 each depending on what you choose.
Whatever you choose, though, make sure that everyone gets the same favor.
To cut costs, you can give out favors by the couple; this will also eliminate doubles going home.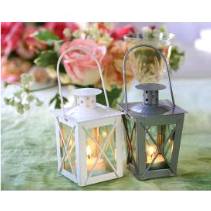 Pick Your Favor-ite
Ideas for wedding favors are endless and can come from anywhere. Here are just a few things to think about:
Familiarity: Go with favors that really relate to the two of you. Whether it be your interests, hobbies you can find things that represent you both.
Food: Who doesn't like food? Go with chocolate truffles in printed boxes, regional specialties such as Vermont cheddar or maple syrup, Louisiana hot sauce. You could also have small jars of local honey with labels of your names and wedding date.
Functional: Favors don't have to just look good, they can be useful as well. These can be things such as corkscrews and bottle openers, key chains, picture frames or photo albums. One of the nicest functional ideas for favors to give your guests are Wedding Bookmarks. Personalized wedding bookmarks are perhaps the least expensive yet one of the most elegant and useful favors I've found to give to your guests. They are by Low Budget Fairy Tale Weddings and are custom designed, printed on quality card stock and laminated on both sides.
Fun: Throw all the "rules" out the window and just go for crazy and memorable. How about bouncing balls, yo-yos, books of puzzles or mind-teaser games. What about these little guys (fish in a bag)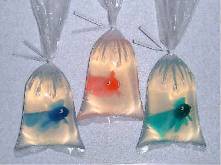 Floral: An increasingly popular idea is to symbolize the idea of marriage as a living and growing entity by giving away seed packets, flowering plants or bulbs as favors. You could even save money by growing your own plants to give away if your thumb is green. Some other floral ideas include lavender or potpourri filled satchels or floral scented candles.
And don't forget that there are other ways to give, including donations to charitable foundations on behalf of your guests.
As you can see, these are just a few ideas that can be explored. Now lets go into detail and see what kind of wedding favours we can find for you:
Beach, Island or Destination Wedding
Cheap, Budget, Discount
Unique
Wedding Shower
Wedding Party
Personalized
Candle
Honey
Elegant
Wine Bottle
Cookie
Las Vegas
Camera
Chocolate
Medieval
Gourmet
Make Your Own